Installation of Sod Lawn
We Perform installation of sod grass in Jacksonville Florida.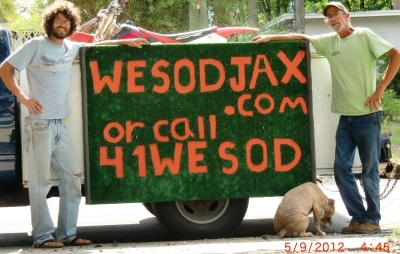 There are many types of sod for lawns. Choosing sod for lawns is easy because there are many types of sod in Florida that can be grown in shade or full Sun.
Inadequate consideration is often given to the sunlight requirements of lawn grass sod.
Do you need to install shade sod? It is important before the installation of your lawn sod to decide if you need shade sod as your lawn grass. If your current lawn grass gets four hours of sunlight or less, then choose the lawn grass sod for shade.
If your lawn grass gets full Sun the shade sod will still grow in full Sun just fine.
Full Sun sod requires six hours of direct sunlight. Before installing the lawn grass sod that you choose watch your lawn grass throughout the day and take note of how many hours of direct sunlight your lawn grass receives.
Popular Sod For Lawns
Campare all these at one glance
St. Augustine Sod installation
St. Augustine has many different types of sod.
Floratam St. Augustine Sod - Full Sun
Shade St. Augustine Sod Like Palmetto
Zoysia sod in Jacksonville Florida
Zoysia grass has many types of sod also but need more then 5 hours of sun.
Empire Zoysia Sod
Zoysia Emerald Sod
Zoysia Zenith Sod
For Bermuda Sod installation
Bermuda sod types
Bermuda Tifway 419 Sod
Common Bermuda Sod.
What is the condition of your soil? Well you have no idea without performing a soil test (How to test soil). A soil test is very important before lawn repair because it will tell you if the soil in your lawn can sustain lawn grass or sod.
- * Soil Test Form | Soil Sample Instructions
Zoysia sod installation service in Jacksonville Florida